Featherfoot Farm Journal Winter 06-07
Some things I know. Some things I guess. Some things I wish that I could learn to express, like the way that I feel as I stare at the sky and I remember your voice and the sound of goodbye.
--Nancy Griffith, Southbound Train
On The Farm
Our dairy farmer friend Walter Witcomb recently chortled, "When someone asks me, 'What do you do on a farm in the winter?' I just roll my eyes."
There certainly is plenty to do, and the day to day routine becomes like an old friend. There's a certain groove that occurs on a farm in the winter, less distraction more survival. The numbing cold and dark at 4:30 a.m. quickly brings one's body and mind together. Wandering thoughts cease quickly; you've got jobs to do. Hungry animals are in the barn and the water buckets are frozen solid; get to it! The wood bin is empty and the pre-dawn house is cold; git 'er done! The kettle is cold and there are hungry mouths to feed; you get the picture. In all of these actions we try to nurture a stillness and find the quietude that exists in the noise and haste, in the hustle and bustle.
A farm in winter is one of the best training grounds for a contemplative lifestyle. The ordered and recurrent rituals that make the patterns of our days serve to deepen our interdependence with all that is around us: the earth, the animals and verily, ourselves.
After much anticipation, more like months of anticipation, our Mustang Mandy foaled a beautiful, strong filly. Just as the cold snap was starting one night in January, Mandy broke her water and in less than thirty minutes the whole thing was done. Almost immediately the filly stood up and started nursing, two signs of a healthy animal. In the coming days the temperature dipped to as low as thirteen below zero but with a blanket, straw and an attentive mother she was no worse for the wear. Now a month old she is bucking and romping in the snowy fields, minus the blanket. The strength and resilience of horses is astounding.
Our goats and Jersey cow are bred as well as our miniature horse Sonardor (that's Spanish for Dreamer) so we will (hopefully) be graced with more little ones in 2007. Peace, Love and Understanding to you and yours in this New Year!
In the Kitchen Brown Rice Bread
Rice is an unusual ingredient for bread but it makes a delicious loaf that is moist and flavorful. It's also a great use for last night's rice.
1 c water, 1 egg, 5 c flour, 1 c cooked brown rice, 2T dry milk, 2t salt, 1T sugar, 1 T oil, 2t dry yeast. Add dry ingredients to wet ingredients, kneed, let rise and kneed again. Cook about 40 minutes at 385.

New foal Sienna at one week old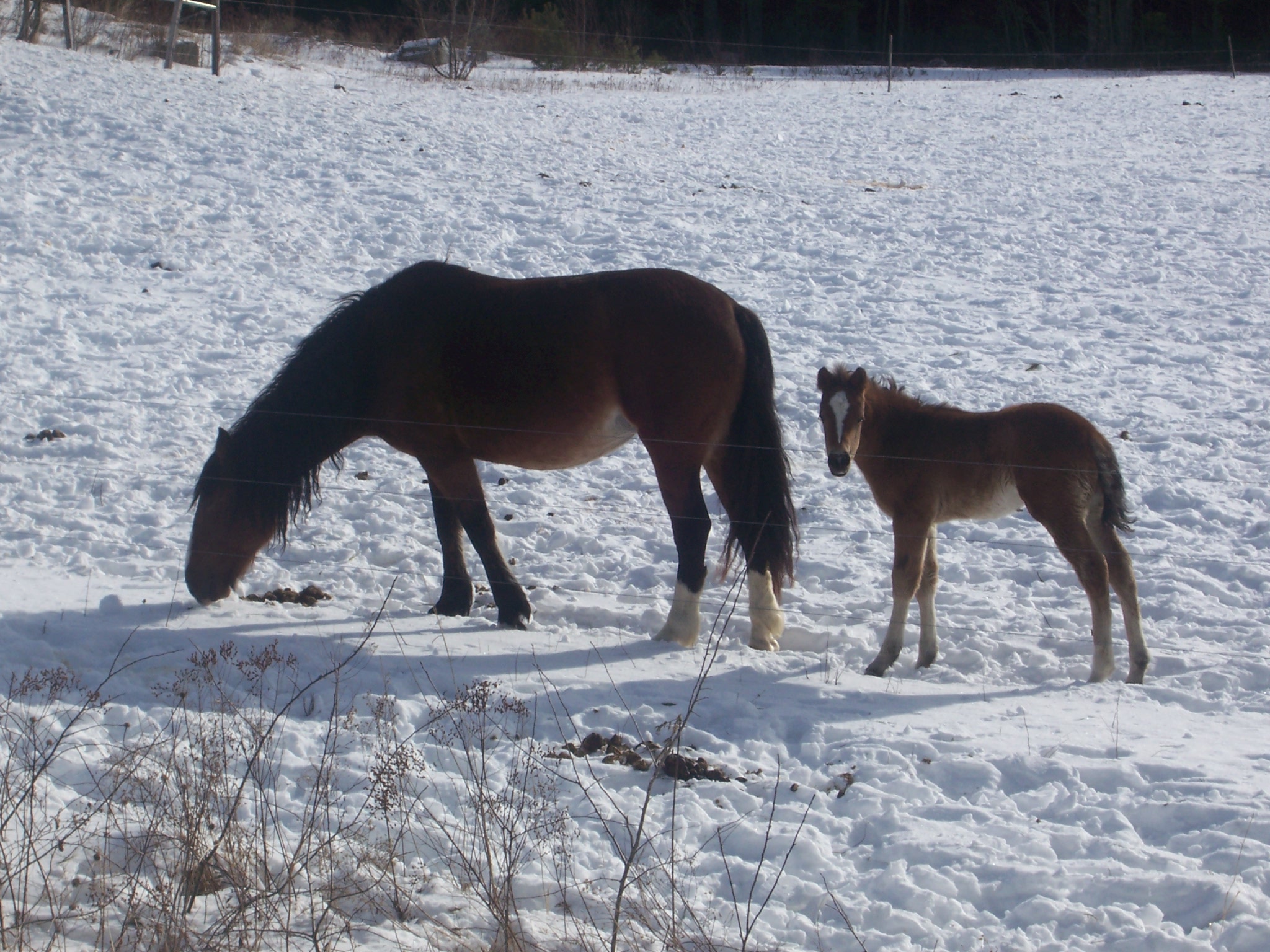 Mandy and Sienna getting some sun

Out west they're called Aspen; in the east Poplar; in Maine Popple

That's a Bald Eagle from our back porch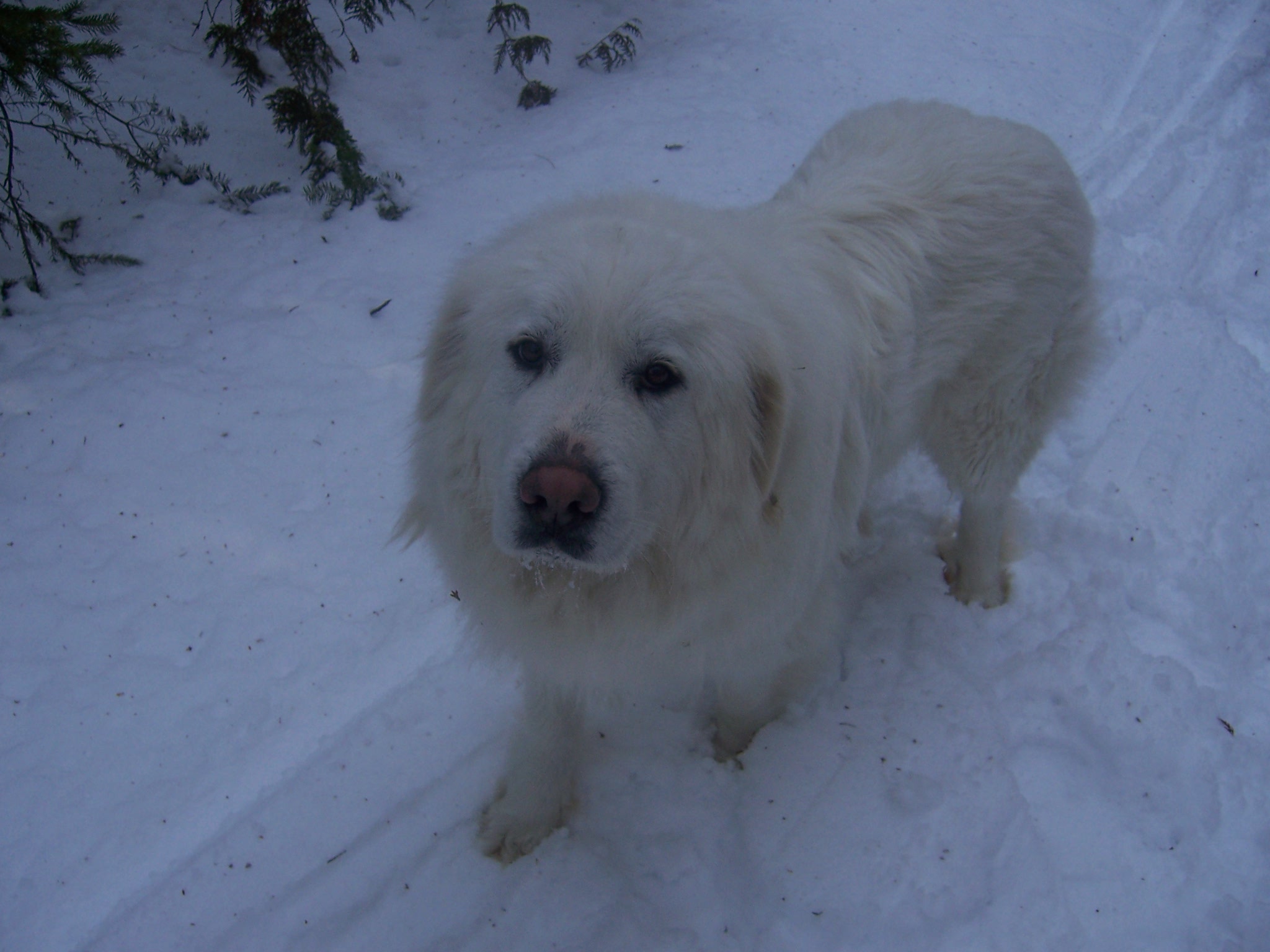 Panda

A well-oiled machine: Black Clydesdale Lola

Max on Giles Pond

Ruby trying out her new skates
Kid Watch

Haley 10 years 6 months

Laddy 9 years 1 month

Max 6 years 11 months

Ruby 2 years 7 months